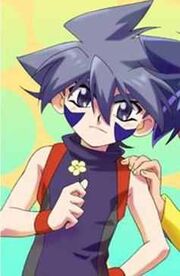 Gou Hiwatari

Occupation-

Beyblader

Family-

Kai Hiwatari (Father)

Rosie Hiwatari (sister)

Stephanie Towa(mother)

Blood Type-

B

Bitbeast-

Dranzer

Voice actors-

Age-

12

Gender-

Male
Gou is the son of Kai Hiwatari and Stephanie Towa . His beyblade and bitbeast is Dranzer that he recieved from his father. He is also the older brother of Rosie Hiwatari.
Apperance
Gou is the smaller version of Kai. Gou has two traingles on his face while his father has four. He also wears the same clothes as Kai in V-force.
Personality
His personality is mostly like Stephanie's but his looks is like Kai. He can be cold hearted at times, but once you be his friend he can be loyal. He's main rivals are Makato and Yuki. He argues sometimes with Yuki and disagrees with some of her choices.
Bitbeast/beyblades
Dranzer is a phoenix bitbeast which use to belong to his father.
Gallery
Trivia
Rin often teased Yuki thinking that she has a crush on Goh.
"Gou" means five in japanese.
He calls Yuki a tradior for leaving them.
Ad blocker interference detected!
Wikia is a free-to-use site that makes money from advertising. We have a modified experience for viewers using ad blockers

Wikia is not accessible if you've made further modifications. Remove the custom ad blocker rule(s) and the page will load as expected.